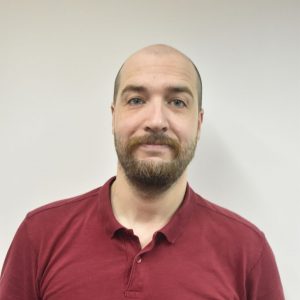 A true lover of Language, Carlos has worked previously as a lexicographer at the Real Academia Española (RAE), writing definitions and summarizing their semantic and formal evolution for the Nuevo Diccionario Histórico del Español (New Historical Dictionary of the Spanish Language).
After studying Linguistics at the Universidad Complutense de Madrid, he received his Master's Degree in Teaching Spanish as a Foreign Language at the Universidad Internacional Menéndez Pelayo, Santander.
He then pursued a PhD in Linguistics and Philosophy from the Universidad Autónoma de Madrid, completing his thesis, Adjetivos dimensionales del español. Análisis semántico y propuesta lexicográfica (Dimensional adjectives in Spanish. Semantic analysis and lexicographic proposal) under the supervision, of PhD Santiago U. Sánchez. Summa Cum Laude. (Downloadable here: http://hdl.handle.net/10486/669538).
He has taught Spanish previously in Corfu, Greece, following which he acted as Director of the Spanish Department at the University of Namibia (Windhoek).  Along the way he also picked up considerable experience configuring and delivering virtual courses, and refining his online teaching methods and style.
Aside from being eminently experienced, he also has an easygoing and patient teaching style, bringing to the classroom both his deep knowledge and his passion for Spanish.