Spanish Course for Adult Beginners (A1.1)
Upcoming Course:
From August 15 | Saturdays | 11:00am – 1:00pm | Teacher Alba | In-School
Master the Basics of Spanish in 20 Hours!
10 classes (2 hours per class)
Spanish for Adult Beginners
The starting point in our curriculum, this immersive group class consists of 20 hours of instruction and interaction, with one 2-hour class per week.  This consistency is key for retaining in the language lessons, and is further enhanced by practicing on our Virtual Campus.
For students who would prefer to study in the comfort of their homes or offices, we offer online Spanish classes, connecting our expert teachers with students across the region, enabling face-to-face language practice and real-time instruction, all according to the student's desires and requirements.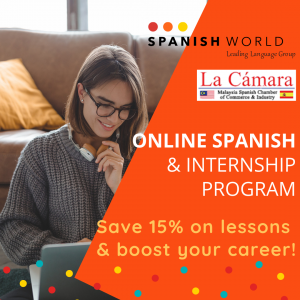 Professional Development
Our Internship Program with the Spanish Chamber of Commerce
In collaboration with the Malaysian Spanish Chamber of Commerce we are offering 5 students the chance to intern at the Chamber or one of its' member companies.  After completion of the A1 course (A1.1 – A1.4) successful students will have the option to take the DELE A1 Exam – an internationally recognized certificate – following which, we will select 5 students for an internship of 1 to 3 months at The Chamber, or other eligible member companies.
In order to reach the next module (A1.2) the following items will be considered at the end of this course:
Progress and participation: work at home (5%) + participation in class (5%)
Final exam (90%)
To pass each module, you will need to carry out successfully 50% of the exam and 50% of "progress and participation".
Identifying Spanish language sounds, being able to pronounce and be understood
Recognizing the sounds corresponding to each letter of the Spanish alphabet to improve pronunciation skills
Basics of interaction, greetings and farewells
Introducing oneself and other people in formal and informal context
Obtaining and facilitating basic personal information (name, nationality, career, age, address, phone, email, civil status and family)
Asking and replying regarding the languages you speak
Describing somebody using information about his or her physical traits, personality and character
Talking about basic activities that you do in your place of work or your place of study
Understanding basic texts (emails, tickets, internet language exchange forums, name cards and data forms)
Writing basic texts (an email, personal data form, name card or language forum entry)
Getting to know Spanish culture: the two last/family names, relevant people, Spanish language in the World, the Family in the Spanish culture, Spanish products
Assessment
About Instructors