Spanish Cultural Timeline | Junio
June 3, 2019

Posted by:

admin

Category:

General

,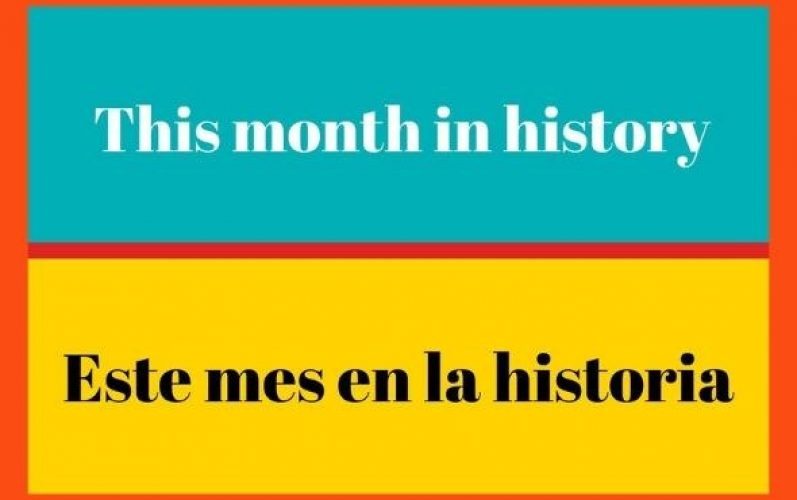 1
1533 – En la costa caribeña de la actual Colombia se fundó de la ciudad de Cartagena de Indias.
2
Argentina conmemora el día del Bombero Voluntario Argentino.
Conmemora – Commemorate

Bombero – Firefighter
Voluntario – Volunteer
Argentino – Argentine
3
1986
Nació Rafael Nadal, jugador de tenis, en Mallorca, Espana.
Rafael Nadal, tennis player, was born in Mallorca, Spain.
4
1920 – Nació Alejandro Obregón en Barecelona, España. Considerado el padre del arte Colombiano.
Pintor – Painter
5
1898 – Nació Federico García Lorca, poeta, dramaturgo y prosista español.
Spanish poet, dramatist, and prose writer.

Como no me he preocupado de nacer, no me preocupo de morir.

As I have not worried to be born, I do not worry to die.

7
Se celebra el día de la Bandera del Perú.
Peru celebrates Flag Day.
1957 – Nació Juan Luis Guerra, cantante, en Santo Domingo, Republica Dominicana.
Cantante – Singer
9
1817 – En Chile se acuñó la primera moneda nacional.
Acuñar – To mint
12
1898 – Las Filipinas, nombrado por el Rey Felipe Segundo, declaró independencia de España.
17
Se celebra el día del padre en El Salvador y Guatemala.
Father's day is celebrated in El Salvador and Guatemala.
1971 – Nació Paulina Rubio, cantante, en Ciudad de México, México.
19
Se celebra el día del padre en Colombia.
21
El Año Nuevo Aymara en Bolivia.
Año Nuevo – New Year
1961 – Nació José-Manuel Thomas Arthur Chao, tambien conocido como Manu Chao.
24
Se celebran las Hogueras de San Juan, muy popular en algunos lugares del mundo. Es tradicional la quema de trastos viejos, muñecos o monumentos de cartón y corcho.
Saint John's Eve. Celebrated in many places, the festival sees the burning of receptacles, dolls, and other artifacts made of carton and cork.

1987 – Nació Lionel Messi, futbolista, en Rosario, Argentina.
25
1852 – Nació Antoni Gaudí, arquitecto español, máximo representante del modernismo catalán.
Su obra mas famosa es la incompleta Sagrada Familia.
His most famous work is the still-unfinished Sagrada Familia.
29
La Batalla de Vino (The Battle of Wine) at the Haro Wine Festival. Exactly what it sounds like!
Pictures c/o:
https://www.thelocal.es/201506…