Shakira & J.Lo's Epic Superbowl Halftime Show
February 11, 2020

Posted by:

admin

Category:

"Cultura"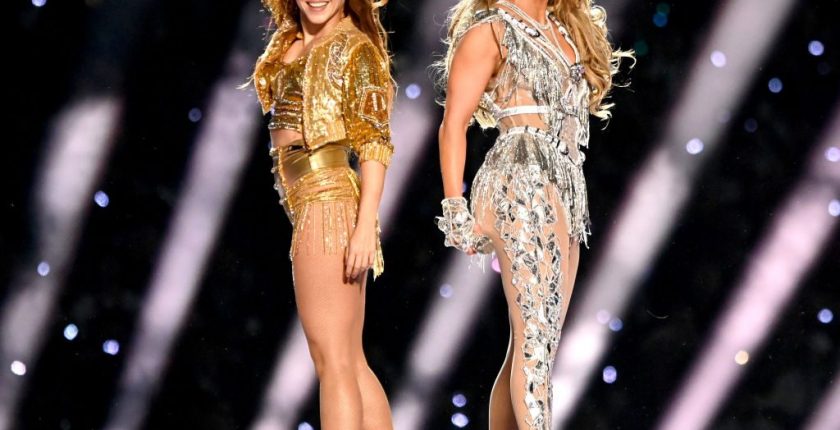 "The Most Latin Super Bowl of All Time"
Last week we were treated to a spectacle at the Super Bowl, the championship game of the professional "gridiron" football league in the USA.  But the Súper Tazón encompasses more than just the 60 minutes the players spend brutalizing each other.  The much-anticipated, extremely expensive commercials make a yearly buzz.  But, for many people, the main event is the Super Bowl Halftime Show ©️.
"¡HOLA, MIAMI!"
Shakira greeted the crowd in Spanish, in a city that's over 70 percent Hispanic – just one reason the BBC called this game "el Súper Tazón más latino de todos los tiempos."
Shakira Sets the Tone
It's fitting that the show's opener was the 43-year old Colombiana, a cultural icon of the Hispanic world.  Latinos born in the 80's will remember Shakira's whole other career, before she crossed over into global superstar status.  The Barranquilla native was 13 when she released her first album, "Magia" ("Magic") in 1991.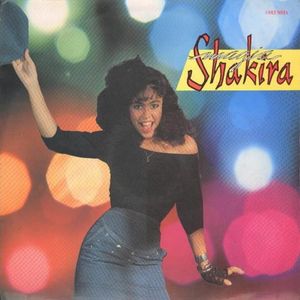 Twenty years passed before she started singing in English, which she apparently learned with some help from Cuban-American singer (and first latina to play the Super Bowl) Gloria Estefan, for the massively successful 2001 album, "Laundry Service."  And now, almost twenty years later, Shakira has leveled up once more with this career-defining performance.
She opened her set with "She Wolf" (aka "Loba") followed by a snippet from "Ojos Asi," a song from her only-Spanish days:
Viajé de Bahrein hasta Beirut    |    I traveled from Bahrain to Beirut

Fuí desde el norte hasta el polo sur    |    I went from the north to the south pole

Y no encontré ojos así    |    and I never found eyes like those

Como los que tienes tú    |    Like those that you have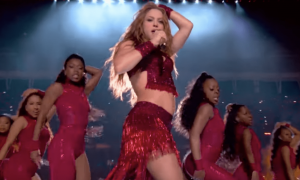 Then came her crossover English smash hit, "Whenever, Wherever," (aka "Suerte"), followed by a more contemporary Latino sound with surprise guest Bad Bunny, the Puerto Rican trap artist, who helped perform a medley of "I Like It" / "Callaita" / "Chantaje"
Comparing "Ojos Asi" to her mini-set with Bad Bunny, we hear the evolution in Shakira's sound – from folk-rock to urban electronic – reflecting both her versatility as a musician, as well the global shift in pop music over the last forty years.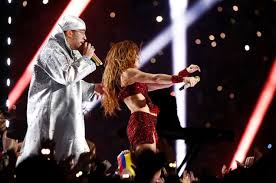 Bad Bunny, though shiny, fails to outshine Shakira
J.Lo Makes a Statement
The show transitioned from the Colombian artist, who'd started outside of the Estadounidense mainstream, to the Bronx-born Puertorriqueña Jennifer Lopez, who was nurtured within that mainstream.  Jennifer Lopez was first a backup dancer on a hit variety show, then was a Hollywood actress (once portraying the Tejana singer Selena on-screen), before finally becoming an R&B performer.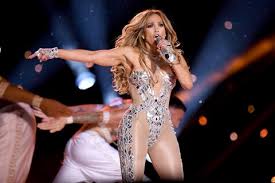 Within the world of Latin music, J.Lo was more widely known as the wife of Marco Antonio, than as an artist in her own right.  Is this because of any language barrier?  In the opinion of Spanish World, not necessarily.  J.Lo's Spanish is good, exhibiting a grasp of word order and grammar, but perhaps not with a huge vocabulary.  A solid B2 level, if we had to assess based solely on this video. 
J.Lo's speech contains the tell-tale Puerto Rican accent markers, such as the lateralization of the /r/ to [L], as well as elimination of the /s/ as heard in the sentence, "…Y eso enseña el personaje immediatamente, y te siente(s)…"
Latin Flavor
J.Lo's guest star was José Álvaro Osorio Balvín aka J Balvin, of Colombia (and, with Bad Bunny, one half of Oasis).  Balvin rapped some bars from "Que Calor" (lit. "What Heat" (see below)) before dancing with the Diva, who had changed from a leather bodice into a sheer silver body suit.  They relied heavily on the sample from "Mi Gente" ("My People"), a song by Balvin and Willy William that has racked up an astonishing 2.5 Billion Youtube views:
Esa rubia no me entiende si yo le hablo en español (what?)    |    That blonde doesn't understand me if I speak to her in Spanish (what?)

Pero se aprendió la canción a la perfección (Lo sabe)    |    But the song was learned perfectly (He knows it)

Por mi patria, por mi nación, ninguna discriminación    |    For my country, for my nation, no discrimination

Aquí no hay raza ni religión, báilalo por obligación    |    There is no race or religion here, dance it by obligation
J Balvin left the stage and Shakira returned to play the drums for a medley of "Let's Get Loud" and Bruce Springsteen's "Born in the USA."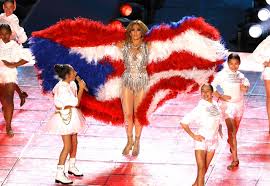 J.Lo screamed "¡Latinos!" as she draped herself in Red White and Blue Puerto Rican flag (yes, it's complicated, but Puerto Rico is part of the USA).
J.Lo, singing onstage with her daughter, Emme Muñiz, delivered a clear and powerful message: that her identity as a Latina existed within a "Made-in-USA" context, and that no contradiction exists between those identities.
Further, being a co-performer with the Colombian Shakira, J.Lo presented her blend of Latin-American-ness as a complement to the other nationalities within the Hispanic world – one part of a multinational tapestry of people, bonded by ancestry and language.
And to answer any critics who might have felt that this empowering, inclusive message clashed with the overtly-sensual aspects of the show, J.Lo replied,
""I think that's honestly silliness.  We (put on) a show that I believe was a celebration of women and our Latino culture that I think was really well reserved. And that small faction of people who want to be negative about it, I can't even let in."

Style and Substance | Estilo y Sustancia
It was a Super Bowl Halftime Show ©️ for the ages!  The whole 2020 Super Bowl will be remembered for the halftime show, with the exception of some grateful fans in Kansas City.  And for good reasons: amazing pop music, technically outstanding dancing, and a celebration of Latino culture on a global stage.  As Shakira said of the big night,
"We have to dream big and fight for our goals because they are obtainable with discipline and effort, and I'm really grateful for this opportunity too, because it's an opportunity to show what we Latinos are made of.  I feel truly honored to be representing so many people out there. Women, Latinas and people of any ages.  I think J.Lo and I are here redefining paradigms about age, about race, about background."
Watch the whole thing here!
*Images courtesy of ImageWire