HK's Spanish Exam Specialists
This is our page for the official Spanish exams for kids, as well as the SIELE exam.  If you're an adult interested in taking the DELE exam please click here:
Spanish World Hong Kong has a proven track record helping students achieve their top results in the key Spanish exams recognized by international schools and Universities.
Getting a 6-7 for IB Spanish, or A-A* for IGCSE, is a realistic and achievable goal, and our experienced teachers can help.  In fact, 90% of Spanish World students go on to score within the top 10% of their respective exams.
Read more about the specific exams here: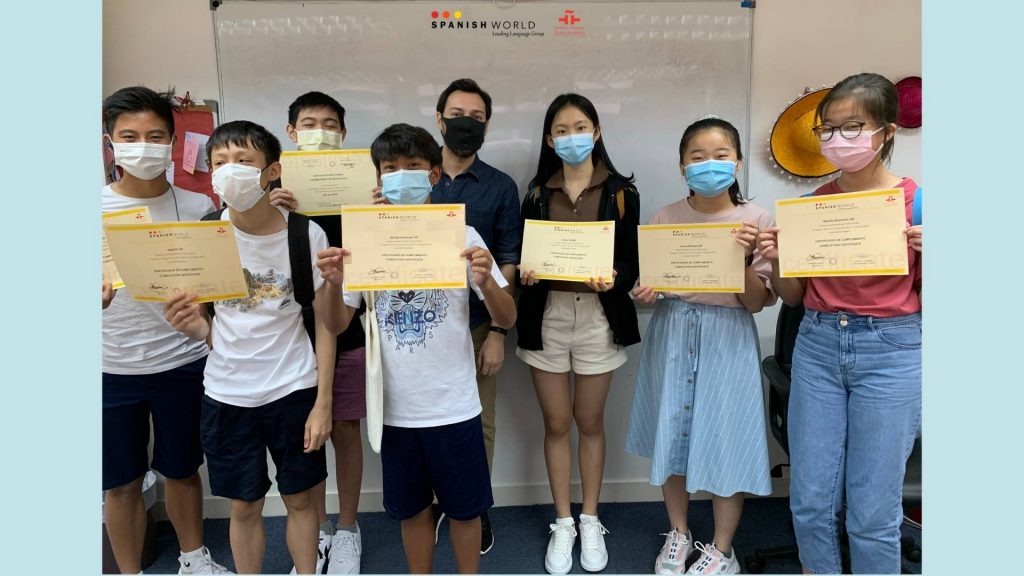 International Baccalaureate Spanish (IB):
Students generally take this exam in Year 12 or 13, between the ages of 16 and 19.  Hong Kong students tend to choose between two Spanish options for their IB Diploma: Language B, or Ab Initio.  (The third option, Language A, would be taken by either native speakers or uncommonly gifted language learners.)
Language B: Spanish
Language B refers to a Diploma Program in language acquisition for students with some previous experience of the target language.
Spanish B entails a high level of Spanish, for students with four to five years of learning experience.  It is further divided into students taking High Level (HL), or Standard Level (SL).  HL students are expected to employ more complex language structures while demonstrating the ability to perform high-order thinking skills in Spanish.
Since 2020, both HL and SL students have been assessed on listening comprehension.  It's expected that they'll be familiar with some different Hispanic accents and linguistic variations.
Further, an expression paper will demonstrate writing skills and test for conceptual understanding.  On this front, our teachers can help provide great "blueprints" for the different styles and written-tones that the student will be called to produce for the exam.
HL students are also expected to have read two literary works in Spanish, and to have their comprehension, interpretation, and inferences assessed in an oral exam.  This is one of the most valuable aspects of having a native, private tutor, as the student becomes comfortable conversing on a wide range of topics – learning about the kind of questions on the exam while improving pronunciation and raising their self-confidence.
Our expert Spanish advisors can help assess your child's current proficiency and provide further guidance on the learning path.  Please book a session or contact us to learn more.
In order to qualify for Language A or Language B, the student should have demonstrated sound knowledge of the language.  Many students sit the IGCSE, or DELE Escolar, in order to prove that they're at an adequate level to take the Language B exam.  Getting to this level of Spanish is realistic for students attending regular classes, either at their school, or at a dedicated language center like Spanish World.

Spanish Ab Initio
This test is for students who are comparatively new to Spanish, having studied Spanish for two years before enrolling in University.  Among the IB exams, it tests for the most basic level of Spanish (it is comparable to the IGCSE Spanish level), but Spanish Ab Initio also tests for comprehension and receptive skill befitting older test takers.
Spanish Ab Initio students require extensive exposure to Spanish if they want to excel on the final test of this Diploma Program.  Their comfort level employing Spanish in "real-world" contexts, and their ability to respond to spoken Spanish on the spot, are key factors in scoring a 6 or 7.  As the timeframe is shorter for Ab Initio students, we encourage parents to get in touch with Spanish World as soon as the decision has been made to take this exam, to ensure the student has a solid foundation, well before the time to take the test.