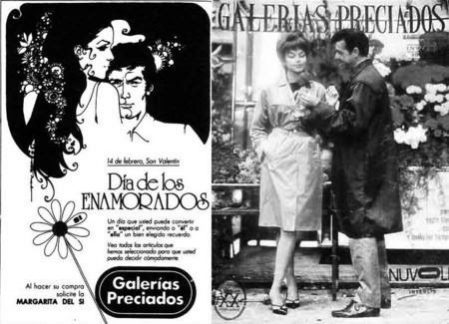 How did Valentine's Day come to Spain?
This Anglo-Saxon custom did not set foot on Spanish soil until 1948, when José "Pepín" Fernández, founder of the Preciados Galleries, introduced the exchange of flowers, chocolates or gifts between lovers. Galerías Preciados is a well-known department store of Spanish origin; the company was founded in 1943 and its first center was opened in Madrid in the busy street of Callao. During the 1960s the company was expanding throughout the country, with a total of thirty-nine establishments. Its success lasted until the end of the decade when El Corte Inglés, another department store chain presided over by his cousin, took over.
Until that time, this saint of Italian origin had no presence in Spain. Since then, gift shops in all Spanish cities are colored red and give off a fresh rose aroma.
  Now, do you know how we address our partner, wife, husband, boyfriend or loved ones in Spanish? The most commonly used words are the following: darling, sweetie, my love, my soul, heaven, my king/queen… and… what expressions do we use in Spanish to express our feelings? Here are a few examples of how we express our love in Spanish: I like you; I like you a lot, I love you and I am in love with you.
We encourage you to write a few words in Spanish to the person you love so much on this special day. Happy Valentine's Day!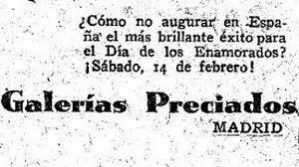 ¿Cómo llegó San Valentín o el día de los enamorados a España?
Esta costumbre anglosajona no pisó suelo español hasta 1948 cuando José "Pepín" Fernández, fundador de las Galerías Preciados, instaló a través de su negocio la práctica de regalar flores, bombones o regalos entre enamorados. Galerías Preciados son unos conocidos grandes almacenes de origen español, la empresa nació en 1943 y su primer centro fue abierto en Madrid en la concurrida calle madrileña de Callao. Durante los años sesenta la compañía se fue extendiendo a lo largo de toda la geografía española, contando con un total de treinta y nueve establecimientos, su éxito perduró hasta finales de década cuando El Corte Inglés, otra cadena de grandes almacenes presidida por su primo, le ganó el puesto.
Hasta ese momento este santo de origen italiano no tenía presencia en España. Desde entonces, las tiendas de regalos de todas las ciudades españolas se tiñen de rojo y desprenden aroma a rosa frescas. 
Ahora bien, ¿sabes cómo nos dirigimos en español a nuestra pareja, mujer, marido, novio/a… en definitiva, a nuestra persona amada? Las palabras más utilizadas son las siguientes: cariño, bombón, mi amor, mi alma, cielo, amor mío, mi niña/o, mi rey/reina… ¿Y… qué expresiones utilizamos en español para expresar nuestros sentimientos? Aquí tienes una pequeña lista ordenada en función del grado de menor a mayor con la que expresamos nuestros sentimientos en español: me gustas, me gustas mucho, te quiero, te quiero mucho y estoy enamorado/a de ti. 
Te animamos a escribir a la persona que tanto quieres unas palabras en español durante este día tan especial. ¡Feliz San Valentín!
Now that you know the history, have a look at our post listing some Spanish Phrases for Lovers 💕.
Want to learn more?  Get in touch with us below: