Learn How to Make Sangría
We had a great time hosting some of our wonderful students for an evening of delicious and authentic sangría! Our Teacher Ceci led us through the steps of making a pitcher, and here you can see the results for yourself. Learn about the history of this traditional libation, and then discover how to prepare it for yourself:
Want to make some of this refreshing beverage? Please see the list of ingredients:
•Vino tinto
•Soda, Gaseosa, refresco con gas
•Limón
•Naranja
•Azúcar
•Hielo
•Un chorrito de brandy, coñac o similar
•Frutas de temporada
•Hielo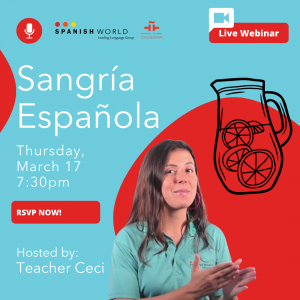 ¿Sabías que (DID YOU KNOW) that under European Union law, Sangría is defined in precise terms?
"Aromatised wine-based drink
—which is obtained from wine
—which is aromatised with the addition of natural citrus-fruit extracts or essences, with or without the juice of such fruit
—to which spices may have been added
—to which carbon dioxide may have been added
—which has not been coloured
—which have an actual alcoholic strength by volume of not less than 4,5 % vol., and less than 12 % vol., and
—which may contain solid particles of citrus-fruit pulp or peel and its colour must come exclusively from the raw materials used. 
 'Sangría' or 'Sangria' may be used as a sales denomination only when the product is produced in Spain or Portugal. When the product is produced in other Member States, 'Sangría' or 'Sangria' may only be used to supplement the sales denomination 'aromatised wine-based drink', provided that it is accompanied by the words: 'produced in …', followed by the name of the Member State of production or of a more restricted region. "
 Regulation (EU) No 251/2014 of 26 February 2014